Dawn's Recipes: Fijian Suruwa (Fish Curry)
Posted on Fri May 21, 2021.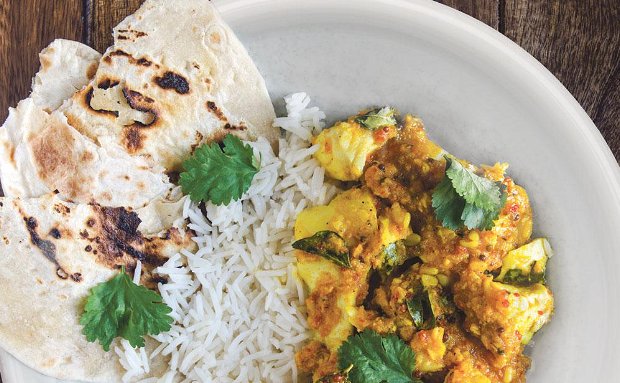 Ingredients:
3 tablespoons sunflower oil
1 red onion, diced
3 garlic cloves, finely chopped
1 teaspoon ginger, peeled and finely grated
2 long red chillies, seeds removed
1 ½ teaspoons garam masala
1 teaspoon mustard seeds, ground
1 teaspoon toasted cumin, ground
1 teaspoon turmeric, ground
2 medium red tomatoes, finely diced
680gm (1 ½ pounds) firm white fish, skinned and boned
Juice of 1 lemon
400ml (1 ⅔ cups ) coconut milk
Salt to taste
Steamed basmati or jasmine rice for serving
Freshly chopped coriander for garnish
Lime wedges
Method:
Place a large, heavy-bottomed pan over a medium heat and drizzle oil into the pan. Once heated, add the onion and sauté until the onion become transparent and soft. Then add garlic, ginger and chillies to the pan. Continue to cook until just fragrant and stir in the mustard seeds, garam masala, cumin and turmeric.
Then add the tomatoes, stirring occasionally, until the tomatoes start to soften, (approximately 15 minutes).  Reduce heat to a simmer, stir in the coconut milk, cook for 5 minutes. Then gently place the fish filets in the bottom of the pan surrounded by the sauce and drizzle lemon juice over the top. Cook for a couple of minutes then turn the fish pieces.  Simmer until the fish is cooked through for no more than 5 minutes, ensuring you do not overcook the fish.
Season to taste with salt and plate immediately with steamed rice, sprinkle with fresh coriander and serve with lime wedges on the side.
Pineapple and Mango Salsa
1 Pineapple, diced
1 medium mango, diced
½ small red onion, finely diced
1 medium tomato, diced
2 lemon/lime juiced
2 tablespoons sweet chilli sauce
Lime wedges
Method:
Mix all ingredients together and refrigerate until ready to serve.