Diving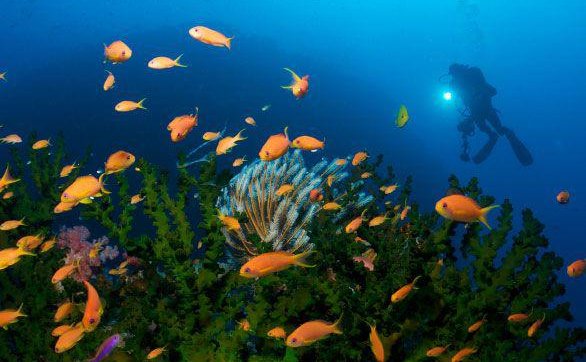 World-class diving experiences await in the pristine Bligh Waters surrounding Dolphin Island. Both snorkelling and tank diving trips can be arranged for guests with carefully selected, specialised local operators.
Water temperatures are very warm, visibility underwater is extremely high, with the soft coral and schools of fish abundant in terms of both quality and variety. The beauty and diversity of this marine paradise is breathtaking and our dive team has all the local knowledge to ensure you enjoy every minute of it.
Four reef systems, with 25 dive sites are readily accessible, with a range of 20-minute (to Hailstone Reef), to just under one-hour boat journey (to the Vatu-i-Ra Passage).
The dive sites of Rakiraki are such that beginners can feel relaxed and enthralled, while experienced divers can enjoy the diversity of the topography and marine life. While staying at Dolphin Island there is also easy access to the highly-rated sites of the Vatu-i-Ra Passage in Bligh Water (the waters between the two main islands of Fiji), which are considered among Fiji's best diving destinations.
Local sites offer a wide range of variation with tunnels, swim-throughs and canyons provide an ever-changing vista, to life-filled walls, reef flats and impressive pinnacles. Many sites feature the signature soft corals that make Fiji diving so famous. You can expect to see a lot of vibrant colours and large numbers of fish.
Diving in Rakiraki is characterised by swarms of brightly coloured tropical reef fish including Moorish idols, damsels, butterflyfish and red emperors. However there are also larger more impressive fish that can be sighted in the region. These include schools of barracuda, trevally, rock cod and more. You are also likely to encounter sharks such as black tip, white tip, bronze whalers and grey reef sharks as well as turtles.
If you are seeking the ultimate Fiji dive experience then take a full tank and dive Breathtaker. Three coral heads sit at around 25 to 30m from a base of around 100m, meaning plenty of nutrients and a resultant throng of marine activity. Divers will almost certainly encounter sharks here in impressive numbers, including blacktip, grey reef sharks and whalers. Keep an eye out for mantas, barracuda and Spanish mackerel at this breathtaking Viti Levu dive site.
Some of the Rakiraki dive sites are named after their remarkable topography as is the case with Amazing Maze, featuring channels, swim-throughs and canyons to explore. Fans, coral trees and soft corals line many of the walls and provide a haven for the innumerable smaller reef fish that live here, close to Nananu-i-Ra Island.
The famed Vatu-i-Ra passage boasts deeper, more exposed dive sites such as Mellow Yellow, famed for its profusion of soft yellow corals, and Wheatfield where twin towers rise from a depth of 45m, surrounded by an abundance of marine life.
Other diving sites worthy of note include Black Magic Mountain, Mary's Maytag, Pandora's Box and Pot Luck.